My Life In An Elven World (2006)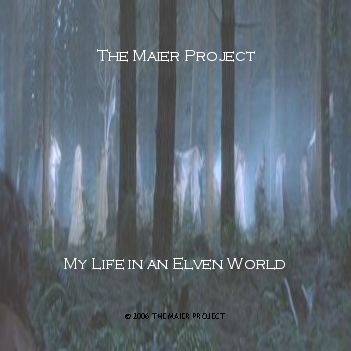 Source of photograph: http://www.theargonath.cc/




1 Erl 5:01

The first track is dedicated to S. The atmosphere of the song is a mirror of her appearance, her character and her mood on the day when I learned her to know. It is exclusively made of unchanged loops. My mother-in-law´s first remark was the song is a sausage. This is a kind of criticism that artists love most: a frank honesty that let you think about giving all up. But do not run scared, there is no danger. I like sausages.

2 Embracement 7:31

This track is the first of some songs that deal with love and "being together". Here I made my first shy experiments in changing the last tone of an acoustic guitar loop for a half tone. What a revolutionary step further.

3 Bow and Arrow 3:31

Whoever has seen "Lord of the Rings" knows how Legolas went into battle. The Elves are virtuous masters of bow and arrow, and the strength and majesty of these devices are described herewith. Again, this piece is formed by unchanged Apple loops.

4 Elven Bread 4:16

A further pure arrangement of loops. What a peculiar kind of food Elven bread is: when you eat one, it lasts for four weeks, Legolas said to the hobbits who had eaten four at a time. My problem with this song was that I did not get the melody of the electric piano out of my head for a couple of days.

5 Among Trees 8:54

Hidden between rocks in a forest with giant trees, looking and listening for mysterious things to happen, and then watching a group of Elves passing by on their way home. This adventure was fun to arrange percussion elements, to construct the suspense of the song and to lead it back to the initial mood. The piano part is the first element I ever played on the computer keyboard by myself. It fits, but nothing more than that.

6 Romy´s Upper Percentile 6:34

A message we learned to know on one of our monthly controls at the hospital was that at that time unborn R had a femur length beyond the upper percentile. Which might have meant that R would be a much larger baby than M was at the time of her birth. Meanwhile, the data have normalized a bit, but nevertheless it was inspiration enough to compose a hymn on that upper percentile. I used loops changing only some short part of the bass section somewhere in the middle part….

7 Heart and Skin 5:22

A contribution to the myriads of love songs ever composed. I put some basic piano loops together and varied them by changing the single notes more and more. A nice and creative exercise. The result is a very romantic piece which is somewhat touching even for men like Aragorn.

8 Finding One´s Place 14:54

Some sort of a "masterpiece" here, but more in the meaning that I never played more by myself before and it is the longest piece within this collection of songs. I had lot of work to do with it until the sounds were arranged and my guitars and keyboards were integrated into the drum and bass framework. I think everybody needs to find out where he belongs to and to achieve an inner state of equilibrium and emotional satisfaction. The song uses the allegory of a journey out of a tempest fading away and giving place to the sun and numerous awaking creatures which you pass by until you reach your home (symbolized by the dog of the house). Ok, don´t say anything.

9 Marie 4:31

An ode to our first daughter who gives you an idea of her temper: Vivid like quicksilver, and also in good mood rarely ever resting. Electric guitar, keyboards and orchestra were played by myself.
© 2007 by THE MAIER PROJECT. ALL RIGHTS RESERVED.
Compositions, arrangements and design by Hans Maier.