Before And After Viral Life (2023)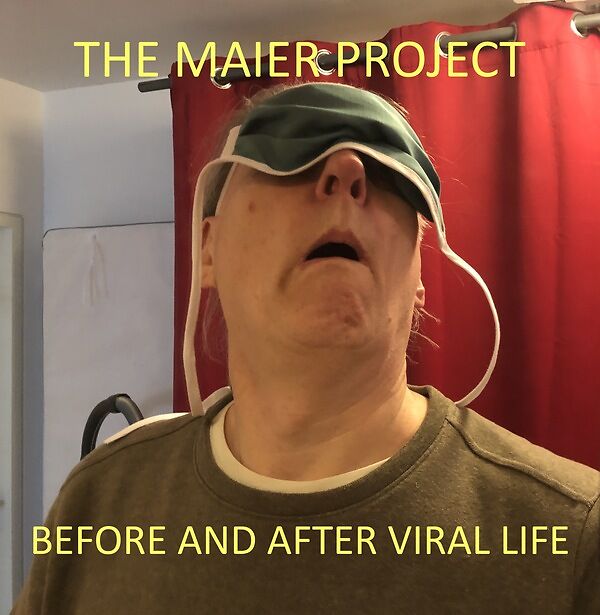 All songs were written between January and December 2022. Six pieces are instrumental. Eight songs have something to do with the Covid 19 pandemic.
Three songs deal with our hometown Innsbruck in Austria.
You find thirteen new songs on the 2023 release, including the single "Kisses in the Snow".
It is the ninth CD since 2006 and the first one with new songs since the successful "Paris" album in 2015.
1 – COFFEE TO GO 4:42
Music and lyrics by Hans Maier
the sign says it is closed
admission not allowed
thirsty as we are
we have to turn and go
no pub to sit inside
entrance closed of all cafes
our decision should not sink
we want something to drink
the sign says it is open
the door is left ajar
what coffee variant we will choose
for what flavour we will go
hot beakers warm our hands
the fragrance flatters the nose
brown fluid gold fills the mouth
what luck, coffee to go
Hans Maier – vocals, percussion
Peter Monk - electric guitar
Willy Monk - electric guitar
Ludwig Sander - bass
Arthur Belovic - drums and percussion
Alessandro Lucchiarini - keyboards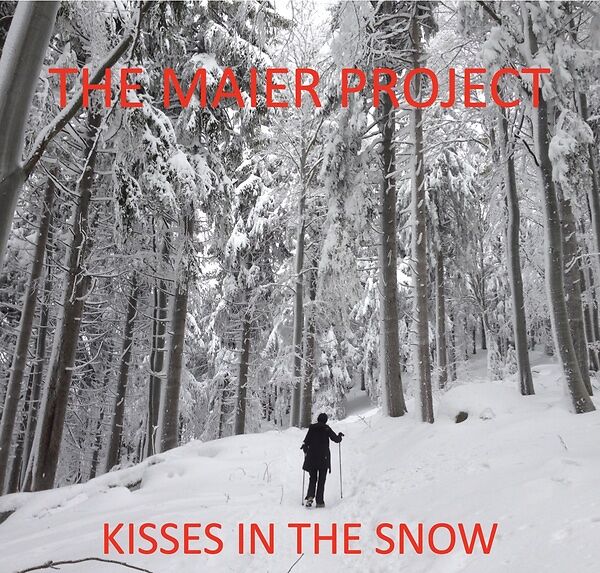 2 – KISSES IN THE SNOW 3:48
Music and lyrics by Hans Maier
snow is falling
cristals on your nose
still your lips
are smooth and warm
like velvet flowers
allure my kiss
I stand
close to you
my heart
beating fast
whilst you
lean on me
I realize
what luck can mean
magic moments
may make history
pushing open
a new door for us
so, we walk streets we do not yet know
and face all what our lives will show
again, I dive
in your green-brown eyes
kiss the snowflakes
off your nose
search your cheeks
your velvet lips
which allure
my tender kiss
and I stand
close to you
my heart is
beating fast
whilst you
lean on me
I realize
what luck can mean
Hans Maier – vocals, percussion
Peter Monk - electric guitar
Willy Monk - electric guitar
Ludwig Sander - bass
Arthur Belovic – drums and percussion
Alessandro Lucchiarini - keyboards
3 – FINGERPRINTS OF ZAHA HADID 3:15
(instrumental)
Music by Hans Maier
Hans Maier – percussion
Peter Monk - electric guitar
Willy Monk - electric guitar
Ludwig Sander - bass
Arthur Belovic - drums
Alessandro Lucchiarini – piano
4 – LOCKDOWN WALK 5:35
Music and lyrics by Hans Maier
put the left foot down in front of you
let the right foot overpass the other one
then let the left foot swing ahead
and move the right foot again to be the first one
this is called the lockdown walk
this is the chance to gasp for air
the chance to get out of the ponging rooms
to clear the head, to wash our thoughts
put the left foot down in front of you
let the right foot overpass the other one
then let the left foot swing ahead
and move the right foot again to be the first one
this is called the lockdown walk
this is called the lockdown walk
Hans Maier – vocals and keyboards
Peter Monk - electric guitar
Willy Monk - electric guitar
Ludwig Sander - bass
Arthur Belovic - drums and percussion
Alessandro Lucchiarini - piano
5 – MERGING WITH THE COUCH 4:00
Music and lyrics by Hans Maier
we were said to stay at home
we were said to get around our friends
to avoid all contacts
so, the only choice we had
was to merge with the couch
we were allowed to leave our house
for shopping, doctors, pharmacy
and then had to return at once
and again, we had no choice
but to merge with the couch
we were said to stay at home
on our sofa left alone
just eating, streaming, gaming
we spent weeks on our couch
where we had spread just to kill time
which we had abundantly
so, the only choice we had
was to merge with the couch
Hans Maier – guitar and vocals
Peter Monk - electric guitar
Willy Monk - electric guitar
Ludwig Sander - bass
Arthur Belovic - drums and percussion
Alessandro Lucchiarini - keyboards
6 – HOETTING 3:05
Music and lyrics by Hans Maier
I know what alleyways to go
I know what steps I must take
to reach the wooden old house
in which you live, in which you wait for me
I stand in front of the gate
and press the doorbell to show I'm arrived
I hear the door buzz, I step inside
I climb the narrow twisted stairs
above I knock twice on your door
and slip inside and fall into your arms
this quarter is built upon a slope
with sinuous streets leading up and down
wherever you may live I love to go to you
but this path is special and closely tied to you
and if we stay together and move to another place
I will always think of you and your wooden old house
where I knock twice on your door
and slip inside
and fall into your arms
Hans Maier – vocals and percussion
Peter Monk - electric guitar
Willy Monk - electric guitar
Ludwig Sander - bass
Arthur Belovic - drums and percussion
7 – DREAM CATCHER 3:56
Music and lyrics by Hans Maier
yes, I know
I could show
how far creepy dreams might go
I will tell
I´ve seen hell
which I learned to know so well
for a reading
dimly lit
my spine-chillers do not fit
too much blood
too much horror
listeners will not share my sorrow
I collect
creepy dreams
I don´t want them to be seen
they are unfit for
childrens´ eyes
I do not want to tell them lies
I am agent
of the dream police
you don't believe - but I don't tease
it is my job
I do cob
bad dreams out, you to please
Hans Maier – vocals and percussion
Peter Monk - acoustic guitar
Willy Monk - electric guitar
Ludwig Sander - bass
Arthur Belovic - drums and percussion
Alessandro Lucchiarini - keyboards
8 – UNKNOWN TIMES 4:14
Music by Hans Maier
Hans Maier – electric guitar
Peter Monk - electric guitar
Willy Monk - electric guitar
Ludwig Sander - bass
Arthur Belovic - drums and percussion
Alessandro Lucchiarini – piano and keyboards
9 – MEETING ANOTHER HOUSEHOLD 4:04
Music by Hans Maier
Hans Maier – piano
Peter Monk - electric guitar
Willy Monk - electric guitar
Ludwig Sander - bass
Arthur Belovic - drums and percussion
Alessandro Lucchiarini - keyboards
10 – VIRAL LOAD 4:30
Music by Hans Maier
Hans Maier – piano
Peter Monk - electric guitar
Willy Monk - electric guitar
Ludwig Sander - bass
Arthur Belovic - drums and percussion
Alessandro Lucchiarini - keyboards
11 – PATSCHERKOFEL 6:04
Music and lyrics by Hans Maier
dazzling sun
hooded eyes
queasy feeling
aching head
wobbly knees
shower cold
a dose of coffee
but no food
can't recall
what I'd done
panic´s close
where am I
outside there's this mountain shape I know
Patscherkofel, glad to see you, you're there
now I know I'm at home, at home
Hans Maier – vocals and piano
Peter Monk - electric guitar
Willy Monk - electric guitar
Ludwig Sander - bass
Arthur Belovic - drums and percussion
Alessandro Lucchiarini - keyboards
12 – MASKS 3:22
Music by Hans Maier
Hans Maier – piano
Peter Monk - electric guitar
Willy Monk - electric guitar
Ludwig Sander - bass
Arthur Belovic - drums and percussion
Alessandro Lucchiarini - piano
13 – CONTACTS 5:48
Music by Hans Maier
Hans Maier – piano
Peter Monk - electric guitar
Willy Monk - keyboards
Ludwig Sander - bass
Arthur Belovic - drums and percussion
Alessandro Lucchiarini - piano